Forensic handwriting analysis
Adam Brand is a forensic handwriting analyst who compares questioned handwriting with known handwriting and carries out signature verification studies. As a forensic handwriting expert he works on cases for solicitors and 'litigants in person' and often where only copies are available for examination.
He acts as a forensic handwriting examiner for civil cases (where proof is on the balance of probability) as opposed to criminal cases (where guilt must be beyond reasonable doubt). His forensic handwriting analysis reports are CPR part 35 compliant. It is the judge who decides whether the experience of a forensic handwriting analyst is sufficient to allow evidence to be given in court. Adam Brand is a handwriting expert who has been accepted to defend his reports in court.
Forensic handwriting analysis and document examination
Forensic handwriting expert work is part of document examination. For most aspects of document examination scientific training is needed, e. g: physics to operate electro-static detection apparatus (to identify impressions) and video spectral comparators (to distinguish between different inks using infra-red light, etc); chemistry to identify those different inks; and biochemistry to determine type and age of papers.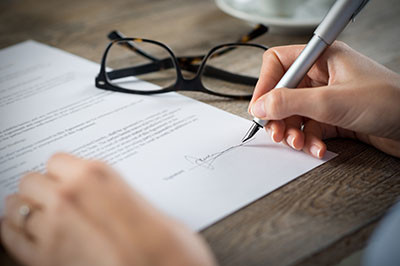 While inanimate materials such as paper and ink are relatively stable over time, this is not the case with handwriting. Handwriting varies depending on the environment at the time of writing (e.g. restricted space on the document; the solemnity of the occasion), the writing instrument used and the writer's health (medication; drugs; eyesight; aging).
Because of this variability, the forensic handwriting analysis part of document examination (judicial graphology) does not have an exact science on which to draw. Decisions are made on a subjective basis.
Even though it is a technical rather than a scientific subject, Adam Brand, as a forensic handwriting expert, does keep as closely as possible to the scientific method (by seeking falsification rather than verification through testing for weaknesses, contradictions and anomalies during an examination) and aims to be impartial and avoid bias (such as selective exposure - choosing only those samples that help a particular side, or selective stopping - finishing the analysis at a point when a preferred answer seems to be confirmed).
Significant handwriting movements
Significance is not based on the frequency of a particular handwriting movement, as some aspects carry more weight than others. For example, there may be a large number of similarities between two sets of writing, yet a few significant differences can determine non-identity.
Similar general characteristics (i.e. similar letter shapes and similar penmanship systems) can lead to a conclusion by a forensic handwriting analyst that two sets of writing were written by the same person. But that may be erroneous. It is the unique characteristics, unlikely to be found in combination in more than one person's writing, that are the key in forensic handwriting analysis.
Unique characteristics are those that are inconspicuous, made unconsciously or with difficulty. In terms of inconspicuousness, the position or shape of a full stop may carry greater weight than the shape of a letter. As for the unconscious aspects, handwriting movements at the end of a word may have greater significance than those at the beginning. A difficult feature is one that is hard to suppress in one's own writing or hard to imitate in someone else's writing.
Although no scales have been agreed internationally among forensic handwriting examiners, factors examined are: fluency, baselines, proportions, pen lifts, spacing, line quality, pressure patterns, up slants, forms of connection, letter widths, beginning and ending strokes, crest lines, punctuation, margins, size and letter constructions.
Samples required for a forensic handwriting analysis
As for the number of samples required by the forensic handwriting analyst for comparison (also known as exemplars or standards), only one or a few known signatures may be enough when all characteristics match the questioned signature. But many more samples will be needed by the forensic handwriting analyst when an attempt is being made to prove that an individual did not write a questioned signature or document.
Ideally samples should be as nearly contemporary to the questioned signature or document as possible and contain similar letters, as only like-for-like letter comparisons are acceptable. If "request" writings are required, their production must be carefully monitored.
Graphology training and forensic handwriting examination
A forensic handwriting examiner with experience in graphology has an advantage when doing forensic handwriting analysis work because of the vast range of features and dynamics he is trained to consider.
Handwriting is a complex process, so an understanding of how the psychological, neurological and physiological states of a person affect handwriting is important when questioned documents are examined. "Graphologists are trained to evaluate the expressive entirety of writing. This provides a wide frame of reference for analysing the dynamic individuality in handwriting, thereby reducing the chance of errors in making an identification." (Siegel, Pat, Value of Graphological Training for the Handwriting Identification Expert, Journal of the American Society of Professional Graphologists, Volume IV, Winter 1995/96.)
I am very impressed with the speed with which you have carried out the report and the detailed analysis contained therein.
Martin Shepherd Solicitors LLP. London
Quality report! Thorough job! Impressed!
PJHLaw, Stamford
Thank you for all your assistance with the hand writing report, the judge dismissed the case, we are very relieved!
Ross and Joanne Jackman
Examples of the range of forensic handwriting analysis reports carried out by Adam Brand
Questioned Signatures on:
Wills - solicitors around UK
TR1 forms - solicitors, London

Sale Contract - Private Client, Yorkshire

Invoices - Florist Company, Kent

Royal Mail Electronic Signature
Recording Device - Solicitors, London

Paintings - BBC (BBC Fake or Fortune)

Legal Charge For Commercial Property - Solicitors, Hampshire

Company Forms - Solicitors, Nigeria

Finance Director Report - Marketing Company, California

Rubber Signature Stamp - Accountancy Firm, Kent

Bank Stubs - Solicitors, London
Tenants' Cheques - Property Company, London

Company Balance Sheets - Solicitors, Manchester

Transfer Deed - Solicitors, London

Landlord Extension Form - Solicitors, London

Cheques - Charitable Organisation, Uganda

Dentist Patient Form - Solicitor, London

Company Director Report - Isle Of Man

Will - Paralegal, Ukraine
Envelopes - Engineering Company, Staffordshire

Cards - Trade Union, London

Rental Agreement Form - Car Insurance Company

Accident/injury Book - Oil Company, N. Ireland

Trade References - Solicitors, London

Application To Office Of Immigration Service Commissioner - Solicitors

Diary Records - Golf Club
Envelopes - State School

Telephone Message Book - Building Company, Hertfordshire

Seating Chart - Airline Company, London

Monthly Rent Sheets - Solicitors, Essex

Child Support Forms - Financial Consultant , Staffordshire

Thesis - London University

Exam Papers - London University

South American Religious Organisation
Finance Company, London

Poison Pen Letters Received By:
Polymer Company, Hampshire
Investment Company, London

International Transport Company, Berkshire
Inside Of Tunnel - London Underground
Wooden Bench - Private Client, London

Factory Walls - Metals Company, Wales
Company Notice Boards - Car Company, London

For forensic handwriting analysis in London call Adam Brand Graphology on 020 8892 6828